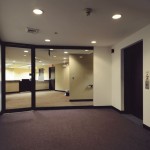 With an asking rate of $12.00 per square foot, the Lower Level provides a 25% savings in monthly rent.
Suites 101LL and 102LL are located in the Lower Level and total 4,228 square feet. Either or both of these two suites are worthy of consideration for a prospective tenant expecting quality, uncompromising space but want to take advantage of significantly lower rent for not having windows. Walk-up to the suite provides a well lit common area with glass doors and walls into the two suites as well as Chase Bank's suite entrance.
Access to the Lower Level is provided by the elevator or the stairwell entrance off of the lobby. Monument signage on both Rand Road and Route 22 would be possible for a qualified tenant.
Overview
Lower Level Asking Rate: The Lower Level asking rent is $12.00 per square foot gross rent with a 2014 base year stop. HVAC and janitorial expenses are included.
Preferred Lease Term: Three year, or greater, lease terms are preferred.
Opportunity: Save 25% in rent, have quality space, quick in and out through the south entrance, plus all of the 444 South Rand amenities.